A Dynamic Career Launched With a Map
28 August 2018
In celebration of the 50th anniversary of the Apollo Lunar Landing in Flagstaff, having begun July 20 and continuing through July 2019, please meet Dr. Baerbel Lucchitta. The career choice and work of Baerbel, in the unique role she played during the Apollo era, was an important role model to women who shunned traditional careers during the 60s.
Born in Münster, Germany, the launch of her career rocketed in America, when women in science were just beginning to make their marks in the geology and planetary science disciplines, primarily dominated by men. Baerbel went where few women had gone before, to perform geologic research and to map strange worlds.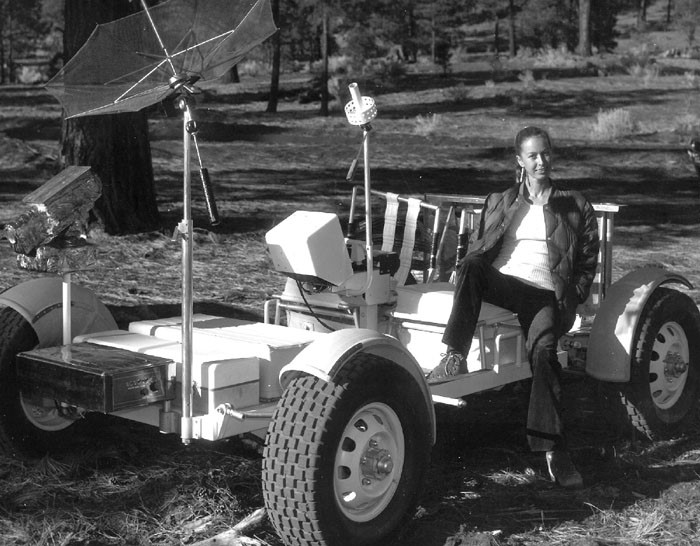 Chance of a lifetime:
After she earned a Ph.D. in Geology, in 1966, at Pennsylvania State University, she worked for Astrogeology Science Center, in 1967, as a lunar mapper. Baerbel was assigned to prepare a geologic map for a candidate landing site for Apollo 17. Little did she know the tides would shift direction when Jack Schmitt, the Apollo 17 geologist and NASA astronaut, would come to Flagstaff to attend a lunar site selection meeting.
"I was at the meeting, sitting in the background among all the other non-important people," Dr. Lucchitta humbly said.
During this meeting, Baerbel observed that Jack Schmitt expressed great interest in going to the Taurus-Littrow valley on the Moon. Her intuition told her that this was going to be the landing site selected and therefore she wanted to prepare the geologic map for this site. However, she had already been assigned to map another site and had to convince her supervisor to let her change the assignment. What if her intuition was wrong and was only wishful thinking?

Her reassignment was approved and she wasted no time producing the 1:50,000 geologic map, above, with fine detail of the Taurus-Littrow valley site. Above and beyond her dreams, Taurus-Littrow valley was indeed chosen as the final landing site for Apollo 17, beating out Alphonsus and Gassendi. Additionally, this was to be the last lunar landing of the Apollo Program.
"The construction of the map launched my career, "Dr. Lucchitta said. "Female intuition helped."

Photo image from a German Tabloid. Translation: This woman makes the moon men dance to her tune.  Dr. Lucchitta said, "They wanted a picture of me, and that is what they came up with.  I was shocked."
The astronauts would dance to her tune.
After Dr. Lucchitta made the map, she was flown to Cape Canaveral to instruct the back-up crew for Apollo 17, John Young and Chuck Duke, about the geology they would likely find at the landing site. But, before the instruction began, she had to pinch herself again: she was going to dine with all the astronauts! She recalls Ron Evans, the command module pilot for Apollo 17, showing up late for the dinner and looking around the table and saying, "Where is Dr. Lucchitta? He is supposed to give us a lecture tonight." All fingers pointed at Baerbel, and they said, "It is her!" Surprise!
After dinner, Baerbel began instructing the astronauts on the geology of the Apollo 17 landing site. She reminisced about a session where she had told the astronauts they would not find silicic volcanic rocks at their landing site in the lunar highlands. At the time, it was still widely believed that the lunar highlands were composed of such rocks. She told them they were going to find nothing but breccia. "I knew this because of my careful study of similar rocks at the Apollo 17 landing site. They would not believe me. What did I know as a young woman, and as a junior researcher? Of course, I was right," she said.
She talked with men on the Moon.
During the Apollo 17 mission, Dr. Lucchitta was in Houston and, among others, served as a backroom researcher transmitting information to the command center, which communicated with the crew on the Moon. But both before and after the mission she interacted with Jack Schmitt extensively, mostly about the dark mantle, thought to be a volcanic pyroclastic deposit to be found at the Apollo 17 landing site. She had done research on these mantles, and was gratified that during their traverses on the Moon Schmitt found orange glass, which was a component of the dark mantle and strongly suggested a volcanic origin. Schmitt and Baerbel published a paper together about these findings.
She had a successful career.
Dr. Lucchitta is a Scientist Emeritus with the Astrogeology Science Center today, still passionate about her work. When asked what was going through her mind as she worked with the astronauts she simply said, "I was elated. At the time, astronauts were big-hero stuff, and I was absolutely thrilled to be part of it all. I was thrilled to do research on the Moon, where almost everything we found was brand new. I was thrilled having the opportunity to personally meet the astronauts, have dinner with them, get to know them, and interact with them. I was floating on air."
This Apollo story tells little about Baerbel and her triumphs and challenges in the work force. Do you feel like laughing, crying, and or cheering? See Baerbel's response, a must read, to a G.K. Gilbert Award presented to her, with citation by Eugene M. Shoemaker, on page 30.
Article written by J. Richie