HiRISE is the most powerful camera ever sent to another planet. From on-board NASA's Mars Reconnaissance Orbiter, HiRISE (High Resolution Imaging Science Experiment) observes the Martian surface at resolutions down to 25 cm/pixel, in three wavelengths and in stereo. The USGS Astrogeology Science Center in Flagstaff, AZ participates in the daily operations of HiRISE and with the processing, distrubution and archiving of this data. View thousands of images and suggest your own at UAHiRISE.org.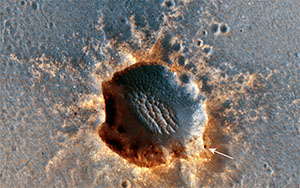 These images are enhanced color views. The HiRISE camera samples and wavelengths of light that are different than human eyes would see, and the images are stretched to optimize color contrast. The HiRISE bandpasses are 400 - 600 nm (blue - green), 550 - 850 nm (red), 800 - 1000 nm (infrared). The "RGB" images display the red data as red, the blue - green data as green, and a ratio of the red to blue - green data as blue. In the "IRB" images, the infrared, red, and blue - green data are displayed in color as red, green and blue respectively.
Image: Mars Exploration Rover Opportunity (arrow) at the southeast rim of Santa Maria crater.